Thursday, December 23, 2010
On the eleventh day of Christmas my penguin gave to me...
Eleven cakes with piping,
Ten bores with bristles,
Nine penguins dancing,
Eight milk bottles,
Seven owls (just seven?),
Six roasted chickens,
Five golden pastries,
Four wobbling jellies,
Three French badgers,
Two turtle bars,
And a pelican in a pear tree
A cake-obsessed penguin doesn't need much excuse to share yet more beautiful iced creations. And the choice between bagpipes or baking is simply no contest whatsoever!
These cookies* are so wonderfully vibrant and intricate. I love that they're bright
and
elegant - especially with baking, the two so often seem to be mutually exclusive. What I'd give for such a steady hand with a piping bag...
Mehndi cookies from
Sugar Sugar Creations
This cake looks just like something out of a fairytale... it seems too perfectly imaginary to be real, and too superlative to even be
called
a cake. And that's
before
you start in on the pistachio sponge with cherry and caramel sauces...
Bûche Elixir from
Christophe Adam
It's a little like the squiggles I draw on very long phone calls, made festive. And tasty...
Faith cake from
I Am Mommy
Oh, my sainted aunts! Oh, my ears and whiskers! Look at this cake!
Amazing floral cake from
Abigail Percy on Flickr
(she also has a
blog
)
Chocolate shavings aren't all that unusual, but I'd never come across
icing
shavings before. It looks so delicate and pretty, a little like oddments of ribbon...
Raspberry cupcake from
Linda Nguyen on Flickr
This might not meet the
definition
of a cheesecake, but what else
could
you call it?
Charcuterie cake from
Debbie Does Cakes
via
Design Fetish
These iced cookies are a little reminiscent of embroidery hoops - such lovely, tiny details...
Spring cookie assortment from
SweetAmbs on Etsy
Bird's nest usually suggests some sort of muddled thing (much like a penguin in the early morning, perhaps), so this cake is definitely something a little different...
Bird's nest cake from Magpie Cakes via
Camille Styles
Whereas these cupcakes have less of an organic feel, and a bit more of a lean towards psychedelia...
Fancy florals cupcakes from
Icing Dreams
(also on
Flickr
)
This has the simple, delicious and perfectly rustic thing down pat. Perhaps I'm getting a bit of a thing about
vegetables and cakes
*...
Carrot cake from
Answers en Croute
(it's the ones growing out of the cake that just make this, I think)
And, while this final cake reminds me very much of a
storm in a tea cup
...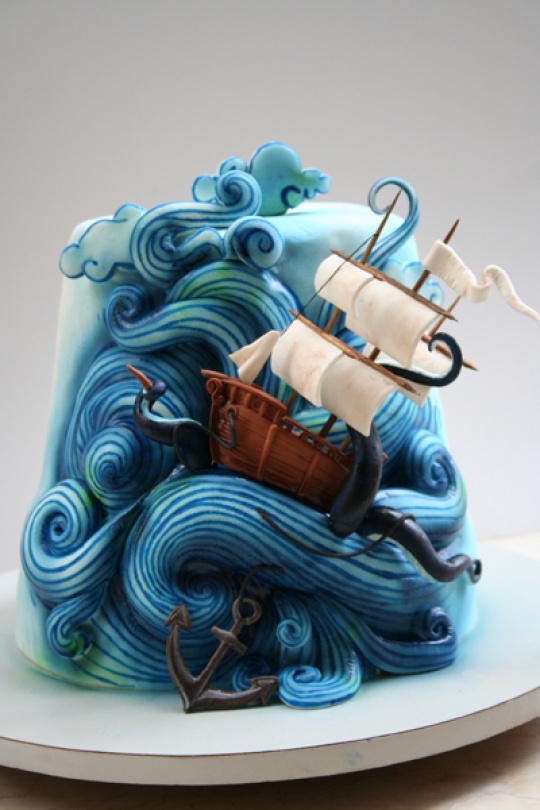 Stormy cake from
Threadcakes
... I don't think the icing obsession is going anywhere just yet!
* It's called
guilt
, thinks the penguin, hopping off the interwebs in search of a salad