Wednesday, January 26, 2011
The Australia day holiday isn't really long enough to get away terribly far unless it bookends neatly with the weekend*. Much as I wish it was longer, there's something fun about a mid-week day off. So many options for small pootles – wandering to a beach or a park, maybe having a gelato, catching up with friends and maybe ending with a batch of baking, or just a snooze in a shady spot with a good book. Lovely!

But if I had longer (and bottomless pockets), Antarctica would be one of my dream destinations. And in the middle of a Sydney summer**, it's even more appealing. So this cake seemed like a perfect fit for today, with its holidaying penguins...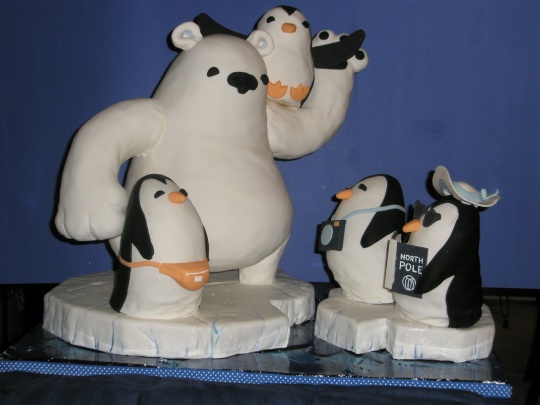 Penguins on holiday cake from
Threadcakes
The sheer scale of the cake (or cakes, as each penguin is a separate cake, not just the polar bear) is quite astonishing. A total of 17 individual cakes*** assembled with 8 batches of buttercream, hand carved, and with the ingenious addition of rice krispy treats (now
there's
something to do with them
) to form the smallest penguin and some of the other details.
A bit like an iceberg, it's what you
don't
see that really (polar) bears some thinking about...
Happy Australia Day – hope you find a fun (and tasty) way to keep cool!
* Surely the spirit of patriotism would dictate that a three-day weekend is, if not quintessentially Australian (after all, plenty of other places get three-day weekends as well!), at least a
very
good idea, and a surivival target after the post-Christmas flatness (when you wonder when you might next get a rest).
** Even if the usual public holiday murk-or-bucketing applies...
*** And I
love
that they made almost every single component from scratch and not just out of packets - so amazing!